Lead Well This Year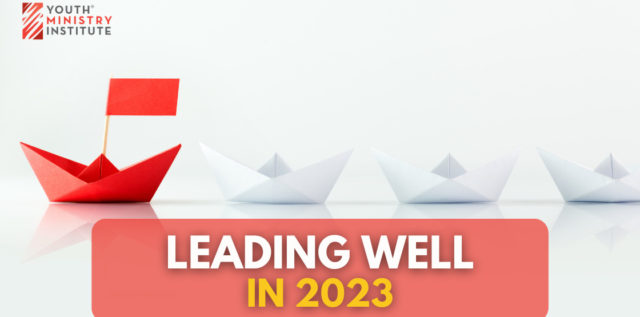 We are in another year of ministry. And whether this is your first, fifth, fifteenth, or fiftieth, each year can bring a different challenge. To help you lead well this year, here are a few ideas to remember as you seek to make Christ known in 2023.
---
Learn and understand the needs of your group.
Understanding the unique needs of each individual and their family within the ministry is essential to leading well this year. By understanding their personalities, struggles, and interests, you can tailor your teaching, studies, and events in a more meaningful way. When we, as leaders, lead in a way that meets the needs of those we serve, we will find that the people in ministry are more receptive and engaged.
Be a student of cultural trends.
Ask loads of questions about the latest trending song, dance, or other social media trends. For some of us, this may get frustrating – even downright annoying. But taking time to stay aware of these trends helps us relate better with young people. My experience has also shown that asking questions about the latest trends will strengthen your relationship with young people.
Be consistent and fair.
The quickest way to lose trust is to act inconsistently and unfairly. Leadership often involves controlling emotions in challenging situations. A little work ahead of time can help us in these difficult moments.
As leaders, we should strive to maintain accountability within the ministry by setting clear expectations and providing consistent follow-through when those expectations are not met. Clear expectations for volunteers, students, student leaders, and ourselves will help you keep a consistent and fair environment. This type of culture is essential in creating trusting relationships with young people and their families.
Remain prayerful.
Lastly, to lead well this year and into the future, you must work to deepen your relationship with Jesus through prayer. You know ministry can be challenging. Regularly praying for wisdom and strength will help you think more clearly when facing difficult decisions and enable you to focus on what is most important. And most of all, living into your identity as a child of God is your first role as a leader.
---
Rev. Brian Lawson is the Director of Leadership Development and Client Services for YMI and has served in youth ministry since 2004. He also serves as a pastor in the Florida Conference of the UMC. Brian holds a Master of Ministry with a focus in organizational culture, team-based leadership, change, conflict, and peacemaking from Warner University. In addition to his degrees from Warner, he studied Christian Education at Asbury Theological Seminary. Click the social links below to engage with Brian.
---